Improving your health & wellness with doTE

RRA is as easy as choosing your first kit.
Choose the best kit for you
doTERRA has a variety of specially priced kits to get you started. Whether you want to focus on diffusing oils for emotional support, solutions for everyday health concerns, or replacing toxic products in your home, we've got you covered. If none of the kits meet your specific needs, you can build your own!
All of doTERRA's enrollment kits include the membership fee and offer additional savings.
Three Ways to Purchase Oils
You have three options for purchasing your doTERRA oils. Pick what works best for you.
Wholesale Membership
Receive a 25% discount on all products you purchase by setting up a wholesale account. When you start with a kit, membership is free.
Loyalty Rewards
For those who have a wholesale membership, making purchases through the optional Loyalty Rewards program can earn you free products and free shipping.
Choose the Best Kit for You
Focus on Metabolic Health for more energy, and to slow biological aging
Metabolic Blend (15 mL)

Softgels (90 ct)

Beadlets (120 ct)

Satiety Gum (30 ct)

Assist (30 ct)

Advantage (30 ct)
Metabolic health and biological age are inseparable. As you age, so does your metabolic function. Your metabolism influences energy, weight, body composition, and even cognitive performance. The stronger and healthier your metabolic function, the better you feel from the inside out.
The MetaPWR Metabolic System provides synergistic support for a healthy metabolism. Combined with healthy lifestyle choices to help you live your most powerful life.
Retail: $238.67
Wholesale: $179
Aroma Essentials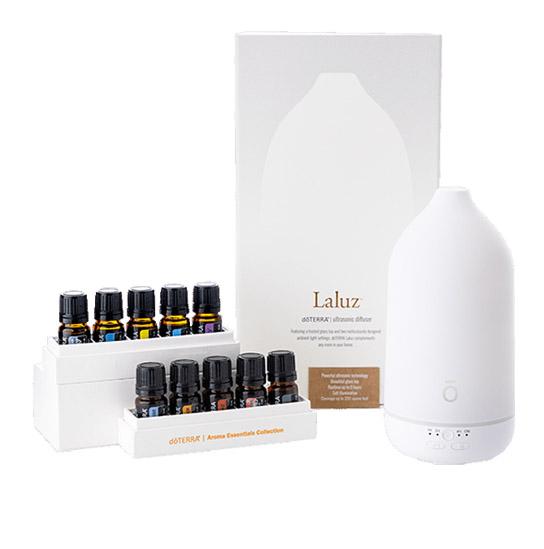 Focus on Mood & Emotional Wellness with top essential oils and a diffuser
Peppermint 5mL

doTERRA Balance® 5mL

doTERRA Breathe® 5mL

Wild Orange 5mL

doTERRA On Guard® 5mL

Citrus Bloom® 5mL

doTERRA Serenity® 5mL

Adaptiv® 5mL

doTERRA Cheer® 5mL

Northern Escape™ 5mL
This collection includes 10 of doTERRA's most powerful oils to help you lift your mood, manage stress, and freshen the air in your home, along with a Laluz diffuser.
Retail: $206.67
Wholesale: $155
MetaPWR +Mood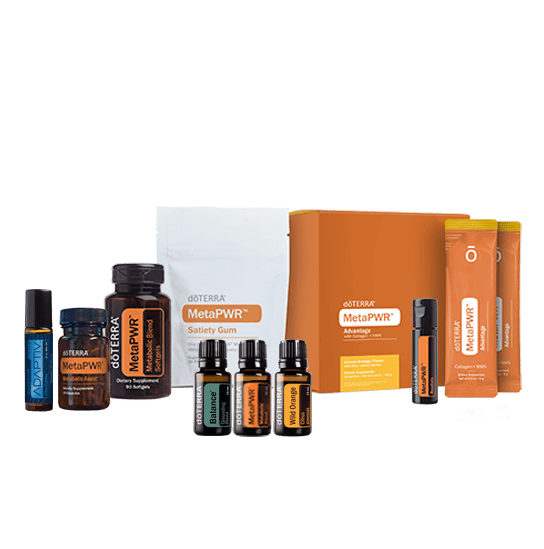 Metabolic Health with additional tools for Emotional Support
Metabolic Blend (15 mL)

Softgels (90 ct)

Beadlets (120 ct)

Satiety Gum (30 ct)

Assist (30 ct)

Advantage (30 ct)
Plus these essential oils:
Wild Orange 5mL

doTERRA Balance® 5mL

Adaptiv® Touch Roller 10mL
This kit combines the benefits that the MetaPWR Metabolic System provides for synergistic support for a healthy metabolism.
It also includes 3 of my favorite essential oils to quickly help lift your mood and manage stress.
Retail: $238.67
Wholesale: $233
Healthy Start Kit
With 10 of our most popular essential oils and blends, as well as the Pebble™ Diffuser, the Healthy Start Kit is ideal for anyone striving to live a healthy lifestyle.
Includes 5 mL: Lavender, Lemon, Peppermint, Tea Tree, Oregano, Frankincense, 5 mL: Deep Blue®, dōTERRA Breathe®, dōTERRA On Guard®, DigestZen® and Pebble™ Diffuser.
Healthy Habits Kit
Wellness is a combination of healthy habits and good lifestyle choices. This kit includes products recommended for daily use in order to achieve and maintain a healthy lifestyle.
Includes 5 mL: Frankincense, Tangerine, Lavender, dōTERRA On Guard® and Balance®, plus Deep Blue® Rub, dōTERRA Lifelong Vitality Pack®, TerraZyme®, and PB Assist+®
Home Essentials Kit
The blends and single oils in Home Essentials have been hand-selected to provide you with the most important tools to help you live an active life, both mentally and physically.
Includes larger 15mL bottles of Peppermint, Lemon, Lavender, Tea Tree, doTERRA Breathe®, DigestZen®, doTERRA On Guard®, Oregano, Frankincense, plus a 5mL: Deep Blue® and Laluz Diffuser
Aromatouch Training Kit
When you purchase the AromaTouch Training Kit, you'll have the products you need to perform the AromaTouch Technique. This is a life-changing practice that creates a powerful essential oil experience you can share with others.
With the kit, you'll also get access to the official doTERRA AromaTouch Technique Certification course, taught by Dr. Hill himself! If you're ready to master the AromaTouch Technique, this kit is perfect for you.
Includes 15mL: doTERRA Balance®, Lavender, Peppermint,Tea Tree, Wild Orange, AromaTouch® , Deep Blue®, doTERRA On Guard®. Also included are  Fractionated Coconut Oil 115 mL, Fractionated Coconut Oil Pump and AromaTouch Training Informational Card.
Natural Solutions Kit
Discover what the power of nature can do with the Natural Solutions Kit! This is a collection of the best doTERRA products meant to help you live a natural life, free of harmful toxins.
This kit is designed to help anyone who wants to use natural products to solve commonplace problems, and harnesses the power of some of the top doTERRA products to promote wellness. If you're ready to live a more natural life—free of harmful toxins—the Natural Solutions Kit could be just the solution you've been searching for. Kit Includes:
Essential oils 15 mL:

Peppermint,

Lemon,

Lavender,

Frankincense,

Tea Tree,

DigestZen®,

doTERRA On Guard®,

Oregano, and

doTERRA Breathe®

Essential oils 5 mL:

Deep Blue®,

doTERRA Serenity®, and

Adaptiv™ 5

Wellness Supplements:

xEO Mega®,

Microplex VMz®  and

Alpha CRS+®,

PB Assist+®, and

DigestZen TerraZyme®

doTERRA On Guard® Products:

On Guard+™ Softgels,

 Sanitizing Mist &

Toothpaste

Lifestyle: doTERRA Breathe Vapor Stick,

Correct-X®, and

Deep Blue™ Stick

Supporting products: Travel Fractionated Coconut Oil,

Laluz Diffuser &

Wooden Storage Box
doTERRA Wholesale Account FAQ
No, there is no minimum order requirement. When you have a wholesale account, you can order as often as you want, or place no additional orders at all. It is up to you.
There is no pressure and no obligation. However, the majority of our customers want to order regularly, and most want to take advantage of the benefits of the optional Loyalty Rewards Program, so it is worth learning more about.
The Loyalty Rewards Program (LRP) is an optional subscription program that you can completely customize. It's offered to customers with a wholesale account as a thank you for your continued business.
When you participate in LRP, each month that you place an order of at least 50pv (pv=product volume), you are eligible to earn LRP points!
LRP points like are product credits which you can use to purchase most of doTERRA's products. Each LRP point is equal to $1, so to receive a free product with a wholesale cost of $25, you'd redeem 25 points.
You begin earning LRP points at 10% back, and gradually increase to 30% back over time. Once you've placed qualified orders for at least 12 months, you'd be receiving 30 points for every 100pv purchased. At that point, your points add up very quickly. Most of us use our points to purchase the more rare, expensive oils.
Additional perks for those participating in the Loyalty Rewards Program:
LRP orders of at least 100pv also qualify for free shipping.
Those who place an LRP order of at least 125pv before the 15th of the month qualify for doTERRA's Free Product of the Month – a special item worth between $15-$20. These are often oils that doTERRA does not usually offer as a regular product for sale.
No. With doTERRA's Loyalty Rewards Program, you can customize your order each month. You can choose what you'll receive and the date that the order should be processed. You can change it every month if you would like.
As long as you purchase at least one product through LRP, even if its only a $5 item, you remain on the LRP program and maintain the "cash back" earning percentage you have achieved. Whenever your order is at least 50pv, you earn LRP points.
Yes. If you want to place multiple order, they can all be on LRP to earn you LRP points.  However, only orders of at least 50pv will earn points.  Two order of 25pv each would not combine to a 50pv minimum order.  But an order of 50pv and a second order of at least 50pv would BOTH earn LRP points.
Yes, you are able to cancel your LRP order any time by calling, emailing or texting member services.
If you do cancel, you will lose any unredeemed LRP points. You would also return to earning points at 10% once you set up your LRP order again, so there are big benefits to continuing on with LRP.
Unfortunately, no.  But using doTERRA products may help you feel less stress, more joy, less pain and have more energy! That's what essential oils do for me!