Lately I've come across some things that have me a little perplexed.  The first was this sign during one of my bike rides:
I'm not sure what to think about touring cemeteries.  At first I thought "eweuuu, that's a bunch of dead people in there, why would I want to tour dead people, or worse, the place the dead people have settled into."  But the more I thought about it I began to wonder if I was off – it could be very historically entertaining, I'm an antique fan and generally like old things, perhaps old burial plots could prove interesting…I don't know, having a hard time coming down on one or the other side of this one, cool or creepy.
So it was in that mindset that I came across this picture:
Someone must think this is a cool picture, either the photographer or the folks in the picture.  To me, it's just creepy.  I don't know why it's creepy, but it's creepy.  However, I'm trying to have sympathy for the faction that votes cool on this one.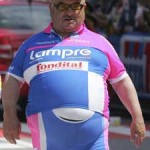 Then on another bike ride, an organized one where I rode with lots of other riders, many of whom were men; I saw lots of men wearing bicycle shorts.  And once again, I found myself a little befuddled.   I know how I feel about this guy in the blue ones, but some guys probably look pretty good in bicycle shorts, like guys in football uniforms – I've been told by my female friends that those tight pants football players wear has some kind of appeal. 
However, unlike football pants, when the guy in bicycle shorts turns around and faces me I'm always a little uncomfortable.  I'm not sure what the deal is, but bicycle shorts seem to 'present' a little more than I want to deal with.  So, I don't know: bicycle shorts, cool or creepy?
The most recent one was an image I came across while watching tv.  It was Lady Gaga and Cher at the VMAs.   Lady Gaga's meat dress has me a little flummoxed (is that a flank steak on her head?) but what has me confused is Cher.  In that outfit.  Do I need to remind you that she's 64?  Yes, 64.  In that outfit.  I just can't decide –  is that cool, or is that creepy.