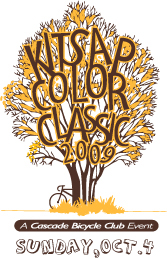 A couple of weeks ago I was able to ride the Kitsap Color Classic, a bike ride around the northeastern side of the Washington peninsula.  It was great!  Since Sam had driven his truck over to see his girlfriend, he as able to take me and my bike down to the ferry in Edmonds, from there I ferried over to Kingston to start the ride.

There were several routes to choose from, the route I took me from Kingston north to Hansville then around to the west and south back to Kingston.  Apparently I choose the "hilly" route, which I certainly would not have done had I know it before hand.  At one rest stop I was amid a group of riders when one asked "so how's that bike on the hills?"  I got quite a laugh with my "it sucks" response.
Riding my recumbent up hills is indeed a challenge, and because I was on the "hilly" course I had a somewhat slow ride.  That along with the fact that I kept stopping to take in the views. I wish the pictures could do justice to some of the views we had, but they don't.   I have one here looking across the sound back towards Edmonds and Everett.  In thebackground you can see Mt Baker, which looked much better then than it does in the picture. 
There's another looking west inland into the peninsula which had a great view of the mountains.  However, my favorite scenes were the ones where the road wound through trees.   I really enjoyed riding through all the trees.  Unfortunately, most were evergreens, and the few deciduous trees there were hadn't yet turned colors, so the Kitsap Color Classic's primary color was green, but it was all still lovely.