Yesterday I rode the Tour de Whatcom, a 105 mile bicycle ride around Whatcom County, WA.  You can check out my route on the route map here.   It was a great day for riding; here's some of the good and the not so good: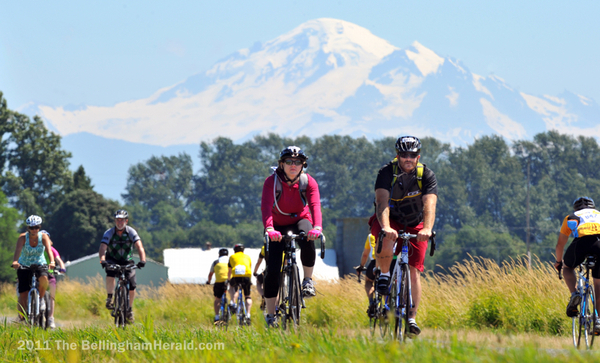 Of course, I expected there to be great views, and there were.  Some of the best views are during the second half of the ride when we're on the western part of the county and can look back to the east to Mt Baker. It is a great sight!
One of the unexpected pleasures came in the north eastern part of the ride, between Nooksack and Lyndon, when we passed several raspberry fields.  I love raspberries! It's roughly harvest time and the smell of fresh raspberry was wonderful!
Staying with the smells theme:  we also passed a number of dairy farms. That was a not so good smell.  Whenever my dad and I came across that smell he would comment that "it smells like money!"  Smells like something else to me.
It may seem like a small thing – but getting a dry shirt from my wife at the 55 mile mark was very nice.  Nothing like a towel to dry off with, a dry bandanna for my head and a nice clean shirt.
I had never been down around the south end of Lake Whatcom, until riding it yesterday; it's very nice.  Would love to have a cabin down there, or perhaps we'll have to visit the Bed and Breakfast there.
This was the first long ride I've done with the "clip-less" pedals (oddly enough, these are the ones that clip onto your shoes – there is some logic to why they're called clip-less but I won't go into it here).  They were a good and not so good thing:  because I was using them I had no pain in my knees at all; however, my feet haven't quite acclimated yet, so I did have some pain after the ride in the balls of my feet.
My time was a little slow, averaging right around 12.oo miles an hour, however, for the first long ride in a number of years, and on a new bike, I'm going to take it as a positive.
The start line, that's me in the upper center, blue t-shirt – NOT a cycling shirt!
All in all, a good day of riding (a long day of riding!) and I'm already looking forward to next year's ride!